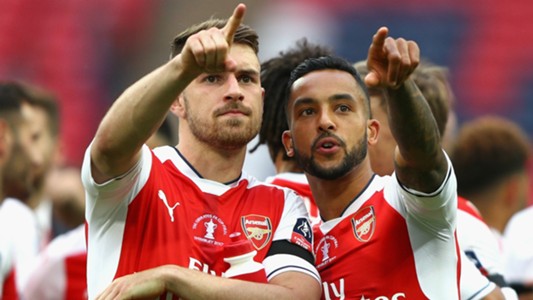 Arsene Wenger's charges will travel to Australia and China before returning to London to host the annual Emirates Cup tournament on home turf
Arsenal will take a long trip east to Australia and China this summer as part of their preparations for the 2017-18 Premier League season, which should allow Alexandre Lacazette his first match practice in a Gunners shirt.
Lacazette has joined Sead Kolasinac in penning a deal in north London and will get to know his team-mates in front of the north London club's swathes of fans living abroad.
Unlike some of their rivals who will spend more than half a month travelling, however, Arsenal will spend the bulk of their pre-season at home in London, with the Emirates Cup closing out their schedule of friendlies as things stand.
This is your complete guide to the fixtures awaiting Arsenal over the coming months before they return to competitive action.
ARSENAL PRE-SEASON FIXTURES
| Date | Opponent | Time (local / BST) | Venue |
| --- | --- | --- | --- |
| Jul 13 | Sydney FC | 20:00 / 11:00 | ANZ Stadium, Sydney |
| Jul 17 | Western Sydney Wanderers | 20:00 / 11:00 | ANZ Stadium, Sydney |
| Jul 19 | Bayern Munich | 20:05 / 13:05 | Shanghai Stadium, Shanghai |
| Jul 22 | Chelsea | 19:40 / 12:40 | Bird's Nest, Beijing |
| Jul 29 | Benfica | 16:20 | Emirates Stadium, London |
| Jul 30 | Sevilla | 16:20 | Emirates Stadium, London |
Australia will be the first stop for Arsenal. They will play two friendlies in Sydney against local A-League sides Sydney FC and Western Sydney Wanderers at the ANZ Stadium, which has a capacity of 83,500 and was the main venue for the Olympic Games in 2000.
From there the Gunners will take a 10-hour flight to Shanghai, China, for a meeting with Bayern Munich at Shanghai Stadium. That match is part of the Chinese section of the International Champions Cup, but given it is the only ICC match Arsenal play it does not appear there will be any tournament structure or league table like in the United States.
Another flight a couple of hours further north to Beijing follows after that, with a Community Shield trial run between Arsenal and Chelsea scheduled for July 22. That will be played at the Bird's Nest - or Beijing National Stadium - venue that hosted the Olympics in 2008.
And that is it as far as Arsenal's trips abroad go. They will be back in London in plenty of time for the Emirates Cup and will take the opportunity to get in another couple of weeks of solid training around that tournament, which takes place across one weekend.
The Gunners will split their squad in half for the double-header against Benfica and Sevilla on back-to-back days, with RB Leipzig also invited but not taking on Arsenal.
WHEN DOES THE SEASON START?
As FA Cup winners, Arsenal will meet Premier League champions Chelsea in the Community Shield on Sunday, August 6 at Wembley.
It had been speculated that the Gunners could arrange another friendly after the Emirates Cup depending on the European qualifiers they faced, but that will probably now not be needed.
The Community Shield will instead lead them into the start of the Premier League campaign, with their first match coming against Leicester City at home. It will be the very first fixture of the new league season, taking place at 19:45 on Friday, August 11.