Chelsea have formally given Alvaro Morata the number nine shirt. Will the Spaniard shake off the curse that has struck down previous wearers of that number?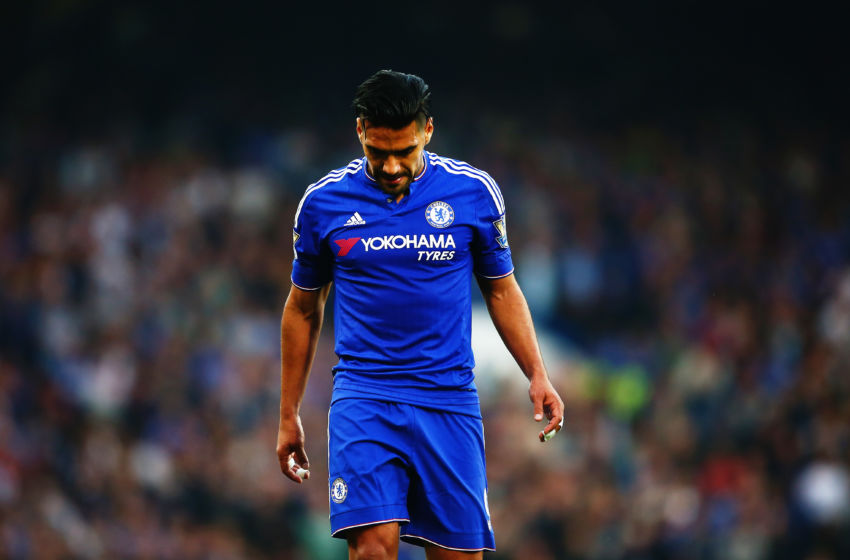 Despite pleas from Chelsea fans to not do it, the Blues have indeed ended up handing Alvaro Morata the number nine shirt. When looking at this list of previous #9 incumbents, feel free to be a bit uneasy about it all.
It should be pointed out that all of these players wore the shirt during the Roman Abramovich era. Let's start with someone who may still be fresh in the memory…
1. Radamel Falcao
What an absolute waste of time this transfer was. Having proven himself to be absolutely useless while on loan at Manchester United, Chelsea and Jose Mourinho took a punt on the once great striker. The result was another terrible season amidst a disastrous twelve months for Chelsea as a whole.
The striker once struck fear into defences. However, injuries and a ridiculously lucrative contract resulted in him being loaned out. When he arrived in West London, the Blues were riding high on the back of a league and cup double. If anyone could resurrect his career, it would be Jose Mourinho. Right?
Wrong. Falcao score one goal in 12 competitive appearances for the Blues. He also spent a lot of time on the sidelines with more injuries. Caretaker boss, Guus Hiddink, eventually dropped him from some squads in favour of Alexandre Pato. Let's not get into that deal…
2. Fernando Torres
Let's first get the good out of the way and use the excuse to watch that Barcelona goal again…
Lovely.
The rest of the Spaniard's stint with Chelsea was little more than a wealth of disappointment. The sort of disappointment that you feel when someone hands you a bag of crisps, only for you to find it empty.
Torres was that bag of crisps. He arrived for a £50 million fee ready to take the world by storm in Chelsea blue. He didn't do that. He didn't even come close to doing that.
The striker spent almost four years on Chelsea's books before he was eventually sold to AC Milan. In that time, he racked up a mesmerising 20 Premier League goals in 110 appearances. Four managers came and went during his stint and yet none of them were able to draw that Liverpool form out of him.
It was a sorry stage in the career of a once great striker. Fortunately, for him, he eventually made his way back to Atletico Madrid where he has rediscovered some of the spark that made him a £50 million man. Furthermore, the fans over there would never boo him either.
And, after all, we'll always remember that night in Barcelona.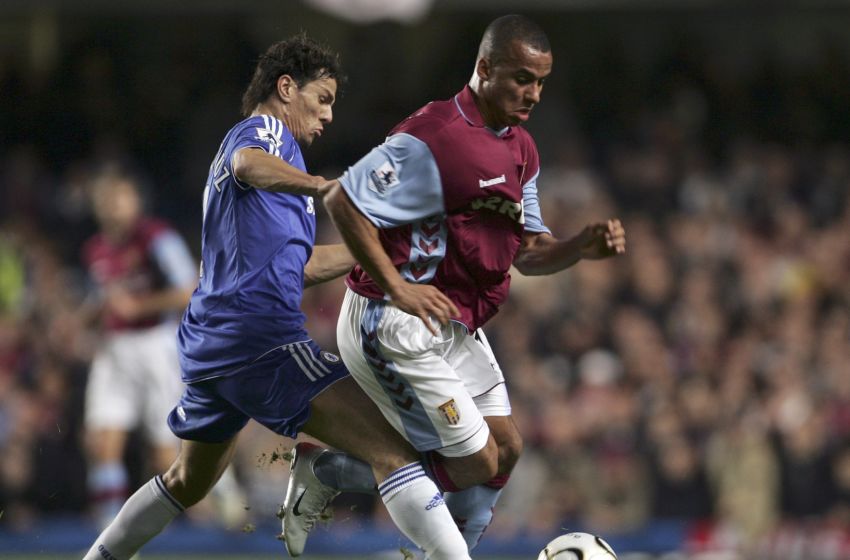 3. Khalid Boulahrouz
Remember Khalid Boulahrouz? Nah, don't lie, of course you do. How can you not? Boulahrouz arrived with a lot of promise but ended up being an absolute car crash of a defender.
The Dutch international arrived at Stamford Bridge for a relatively hefty £9 million price tag. Renowned for his versatility, Boulahrouz was brought in to add defensive cover to Jose Mourinho's squad as they tried to make it a hat-trick of Premier League titles.
Bizarrely, he was handed the number nine jersey. With hindsight, that was the first sign of what would be a thoroughly weird and disappointing one season in West London for the defender.
Boulahrouz went on to make 20 competitive appearances for the Blues during the 2006/07 season, before fading into relative obscurity. He was well down the pecking order by the end of the campaign and was loaned out to Sevilla for the next season.
The highlight of the Dutchman's stay came in a game against Arsenal. Boulahrouz conceded a penalty and got sent off in an eventual 1-1 draw. That result handed the Premier League crown to Manchester United.
Boulahrouz then bounced around some continental clubs, before announcing his retirement in 2016.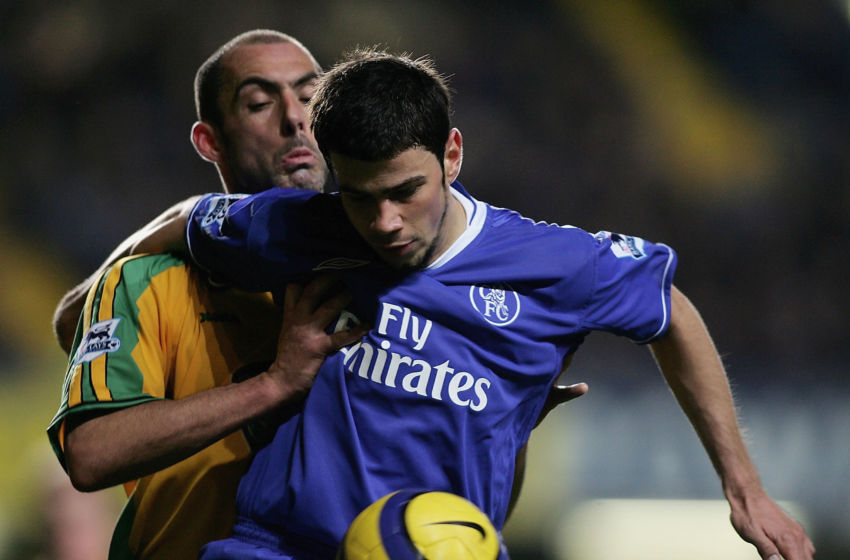 4. Mateja Kezman
Mateja Kezman was yet another player who underwhelmed. One of the first signings of the Jose Mourinho era, he was tipped for great things having scored 105 goals in 122 league games for PSV Eindhoven.
However, one season in West London is all that he enjoyed before he was moved on to Atletico Madrid. It wasn't a particularly successful campaign for him either, as he scored just seven goals in 41 games. While Chelsea set records, Kezman just drifted in and out of the team, contributing very little.
Perhaps he should have stayed for a bit longer (something that he regrets himself) but the bottom line is that this number nine was a disappointment. This is especially due to the fact that he inherited the shirt directly from a Chelsea great in Jimmy Floyd-Hasselbaink.
After leaving Chelsea, Kezman would go on to play for six more clubs. He would fail to reignite his career before eventually hanging his boots up in 2012.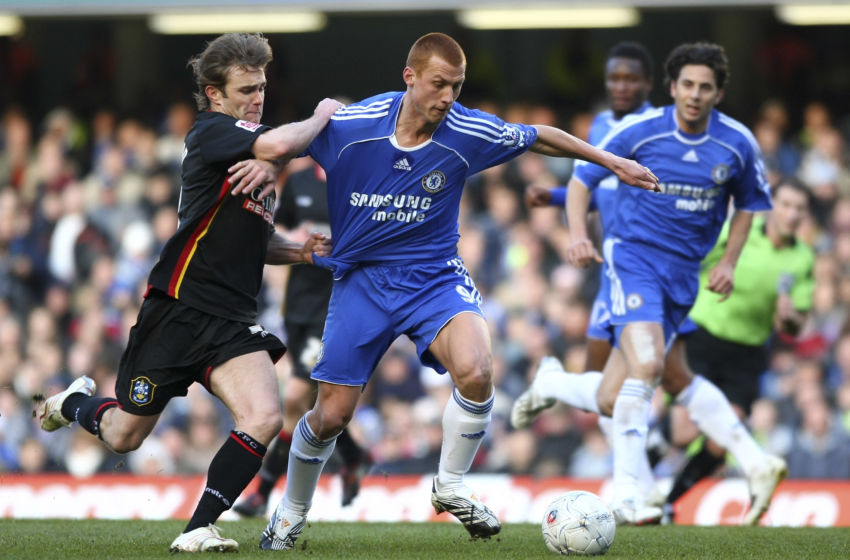 5. Steve Sidwell
From the Khalid Boulahrouz school of 'why was he given the number nine?' number nines, enter Steve Sidwell. The midfielder was a slightly puzzling purchase, having built a modest reputation at Reading. He continued to be a fine example in modesty during his Chelsea career.
He came to Stamford Bridge on a free transfer and with an apparent hunger to improve himself. The fact that he was free means he will never feature in those transfer countdowns, but the fact that he made no impact still stands.
He played 25 times in all competitions for the Blues during the one 2007/08 campaign. He scored one goal and left having left an impression on few people.
Sidwell then moved on to Aston Villa and now currently finds himself at newly promoted Brighton and Hove Albion. He's not wearing the number nine, though.
So, how do you think Alvaro Morata will do in the number nine jersey? Let us know your thoughts and/or fears in the comments below!